We are fully committed to servicing all customers in the current circumstances. Our engineers are working hard 24/7 to support all domestic and commercial customers.
Metro Rod Deeside; Helping you get to the ROOT of the problem!
One of the most common issues when we attend sites to a blocked drain is root ingress. When trees are/have been planted near drain pipes and manholes, as they grow over time the roots can worm their way into connections and joins along the line. Roots are a powerful force of nature which can easily grow out of control and cause mass blockages and damage to pipework.
Take a look at some of these large roots that have been pulled from damaged drains by Metro Rod!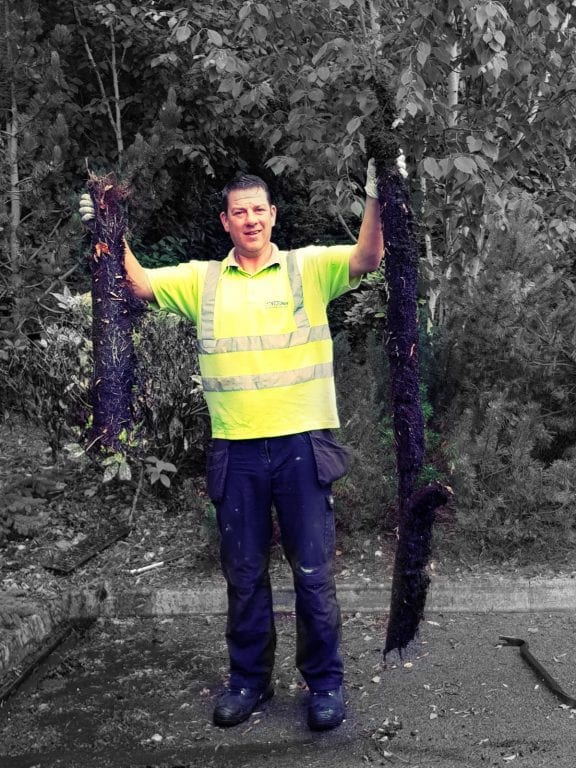 It's no wonder these customers were having issues with blocked drains!
In order for us to remove roots such as these we use what's known as a Warthog Nozzle on our High-Pressured Water Jetter. This nozzle spins and jets simultaneously to cut through the root. Another tool use is a Root Cutter, this is similar to the Warthog. However, this tool also incorporates metal blades into the equation to help cut away root ingress.
Root ingress unfortunately is not something we can easily prevent. Tree roots follow no rules and grow where they please, sometimes you just can't stop nature from taking its course! Older drainage systems are made using clay pipe work which are easily damaged by roots. More modern systems can still be damaged by roots around the rubber couplings at the joints too.
Leave it Metro Rod to fix your drainage issues caused by root ingress!
In many cases where roots have entered the drains via the joints we can install what's know in the industry as a liner. You can read more about this kind of technology and other No-Dig Tech here! This liner technology can seal up the broken joints in some cases once the roots are removed. In some more severe cases there may be a need for excavation if the damage has gone beyond the joint or the roots have caused a displacement in the pipework.
If you feel your drainage issues may be related to root ingress, or if you're unsure call us to speak to one of our dedicated office staff who will be able to assign you an engineer. We are able to carry out a CCTV look see's in order to get to the 'root' of your problem! Our engineers are your local drainage experts and will be on site with you in a matter of hours for emergency cases!
Call us on; 0808 250 9915
Visit our websites; North Wales Area
Email Us; [email protected]
Find Us On; Twitter or Facebook or LinkedIn
Or connect with Eleri, our Marketing Manager on LinkedIn too!
We operate 24/7 and calls will always be answered directly by an experienced on call manager who can start diagnosing any drainage problems. From there we're able to assign you an engineer who can be on site within a matter of hours. We operate throughout North Wales, including Anglesey, Chester and Wirral areas. We're able to deal with problems such as;
Blocked drains (internal or external)
Sink, urinal and mainline drain blockages
CCTV surveys of drainage systems
Tanker Services
Graffiti Removal
Robotic Cutting
Drain repairs – no dig or excavations
Preventative maintenance