We are fully committed to servicing all customers in the current circumstances. Our engineers are working hard 24/7 to support all domestic and commercial customers.
Septic Tanks
Septic tanks are suited for properties that cannot connect to a mains sewage network. The system consists of an underground chamber that reduces solids and organics by using an anaerobic process. To clarify, the septic tank collects wastewater and sewage.
The solids settle and decompose, whereas the wastewater is discharged after treatment into the ground through a constructed drainage field/soakaway. Effluent water from a septic tank can no longer be discharged directly to a watercourse – as of January 2020 all septic tanks that discharge to a watercourse must be treated and meet specific guidelines. This, as a result, can be achieved by the installation of a packaged sewage treatment plant.
The diagram below shows the process of a septic tank.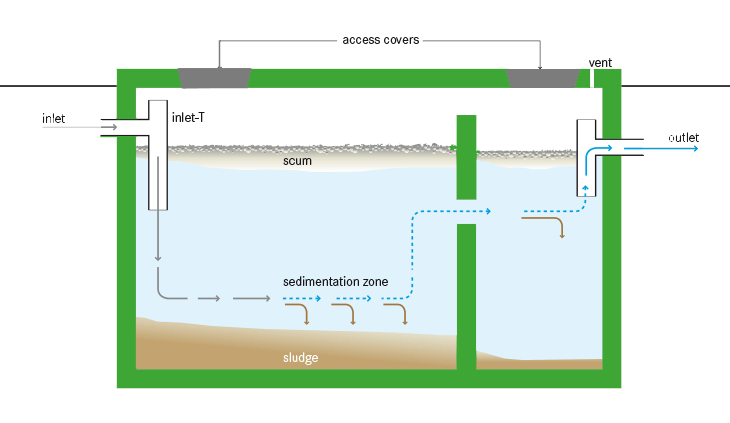 Packaged sewage treatment plants
A Package sewage treatment plant is a self-contained tank that is a modern alternative to a septic tank. The system is designed for properties that cannot connect to mains drainage and/or need to upgrade due to the regulations surrounding the discharge of treated effluent to a watercourse.
In addition, package sewage treatment plants promote the growth of aerobic bacteria. These bacteria treat the sewage that the plant receives from the property and produces an outflowing stream of water to a watercourse and/or soakaway. However, this outflowing stream is only suitable for discharge to a watercourse with prior approval by the Regulating Authority (England = Environment Agency | Wales = Natural Resources Wales)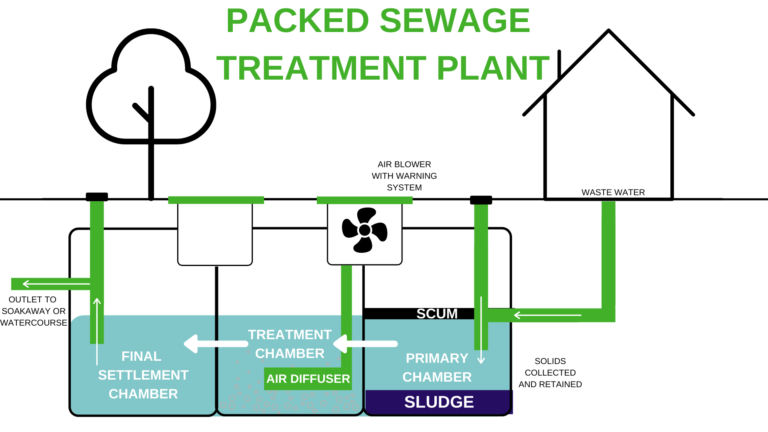 What option is best depending on the property type
In conclusion, there are multiple differences between septic tanks and sewage treatment plants. Cost, permit requirements and site restrictions are all factors that must be considered.
A new sewage treatment plant costs more to install as they must produce a cleaner effluent and need electrical connections. However, they require less emptying than a septic tank. Septic tasks cost less to install. But they need more space, regular emptying and cannot discharge to a watercourse. Septic tank maintenance is very important in the upkeep of the tank and makes sure everything continues to work correctly.
A septic tank is suitable for a single house or small development where there is an adequate space to create a suitably sized soakaway. Whereas, a sewage treatment plant is suitable for single households, large developments, and commercial premises.
Metro Rod can assist by offering a free site survey to discuss your specific requirements.

Are you in need of reliable and efficient drainage or plumbing solution? Metro Rod Newport, Hereford and Gloucester can help you and your businesses or home with our services!
Call us on; 01495 305578
Visit our websites; Newport and Hereford or Gloucester
Email Us; Newportand[email protected]
Find Us On; Twitter or Facebook or LinkedIn
Metro Rod Newport, Hereford, and Gloucester are available 24/7 where we are able to deal with multiple types of drainage problems and issues.