We are fully committed to servicing all customers in the current circumstances. Our engineers are working hard 24/7 to support all domestic and commercial customers.
Today, being Halloween, is all about the scary things in life, so Metro Rod Bristol wanted to tell you about some of the strange things that have been found down drains.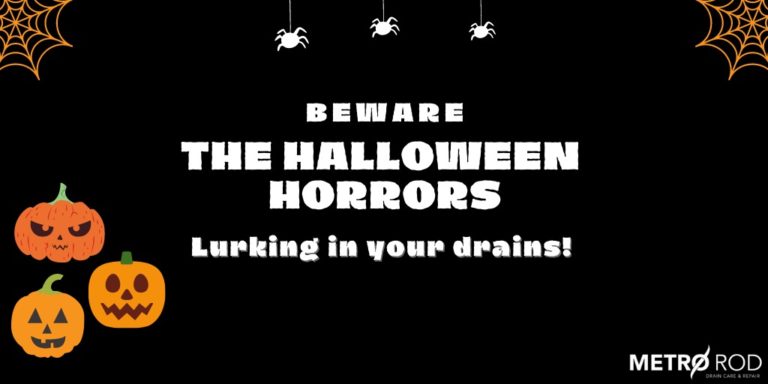 Most drainage problems will have a pretty common cause that we tend to see everyday, but there are occasions where things have been found down drains that should never have gotten there. We want to tell you about some of our favourite stories. 
#1 A Rave
In Newcastle 2017, an unlikely location for a rave was discovered – the city's sewers. Around 200 attendees had to wade through the sewers and all the waste underneath the city to reach the final location which had been decked out with lights and speakers for the party. It was eventually shut down after someone reported it, we're not sure about you but a sewer rave would not be our first choice! 
#2 Piranhas
In Shropshire, Severn Trent Water responded to reports of a strange fishy smell coming from the drains. When they investigated the drains for the cause of the smell, they found a number of large Piranhas which had been flushed down the drains. Piranhas seem to be a weird pet to keep at home, and at 10 inches long we are surprised they made it down the drain at all!
#3 An Alligator
In New York, USA, there is an urban legend that the city's sewers are full of alligators, people were led to believe that baby alligators were often bought as pets before they realised they were dangerous reptiles. They were then flushed down the drains, where they can now breed and thrive in the sewers. Whilst scientists insist that the conditions of the drains would not allow for the alligators to live for long, one was found in East Harlem in 1935 down a manhole, how it got there, no one knows.
#4 Half A Car
In 2014 half of a vintage Mini car was found discarded in a London Sewer, now Minis are known for being small compact cars, but we never thought they would be small enough to get into a sewer drain. We wonder who even put the car down there in the first place. 
These examples just go to show that drainage work can be very important and we can find all sorts of things down there. While it is unlikely we'll find half a car down one of your drains, we may find a number of other things that could cause you problems. To find out more about the services we offer, get in contact with us today. 
Metro Rod Bristol offer services across Bath, Bristol & Trowbridge, from dealing with blocked drains, drain repair, CCTV surveys and septic tank maintenance. We believe in simple things and make sure we follow them through; available 24/7, professional, value for money service during and after the job and peace of mind in the fact that all our engineers are highly trained, DBS checked and fully insured.
Make sure you get in touch with us through any of the following:
Enquire through our website: click here
Get in touch with us via email: [email protected]
Connect with us on LinkedIn: click here
Call us on 0808 208 2616
For any drainage needs, we are the drainage experts. We look forward to hearing from you soon!