We are fully committed to servicing all customers in the current circumstances. Our engineers are working hard 24/7 to support all domestic and commercial customers.
It's not glamorous, it's not often exciting but drainage is one of the most important services that our local shops, restaurants, hotels, universities and hospitals utilise…
And here at Metro Rod in Liverpool we are extremely proud to provide drainage maintenance services to all of the above sectors…and more!
24 hours a day, 7 days a week, our distinctive green vans can be seen travelling the streets of Liverpool, Warrington, Runcorn, St Helens, Widnes and Southport to attend to an emergency job for one of our clients.  Whilst we are not attending an 'emergency' in the same sense that the police, fire or ambulance service have to attend (no flashing blue lights on our vans!) the situations that our customers can find themselves in can be pretty dire and so when one of our friendly, fully trained engineers turns up on the doorstep it can be a massive relief.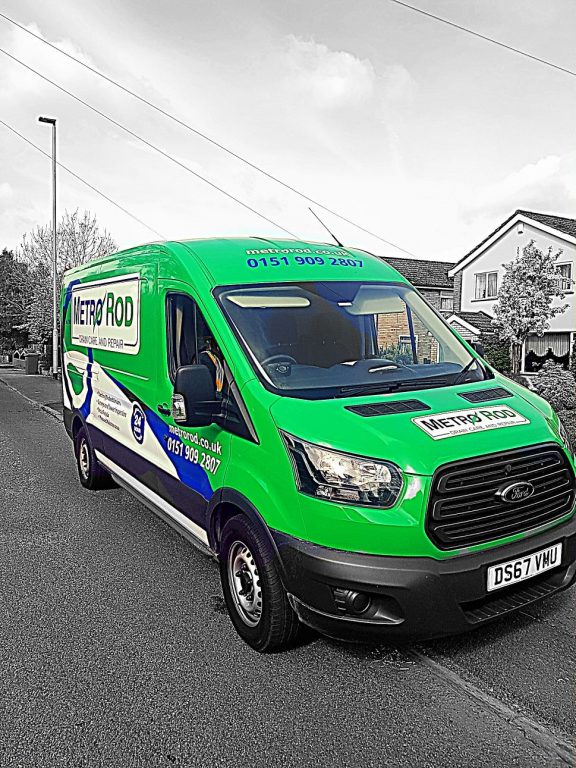 Metro Rod offer a huge range of services to our clients and so we can attend to any drainage problem – above or below ground, large or small, internal or external.  Our main services include;
Sink, Urinal and Mainline Blockage Clearance
CCTV surveys of drainage
Tanker Services
Graffiti Removal
Robotic Cutting (to remove obstructions from drainage)
Drain Repairs – either 'No-Dig' in-situ repairs or excavations
We also offer free advice concerning preventative maintenance.  If you would like some advice concerning any drainage on your site please get in touch and we can arrange for one of our managers to attend your site.
Drainage is a dirty job
We have all seen the fatbergs in the news lately – these are just an indication of some of the horrors hidden in our drains!  Our engineers come from site on a daily basis covered in muck, water and worse (let's all be thankful for Personal Protective Equipment!) but they wouldn't have it any other way!  As Nigel, one of our senior engineers once said "It's a great job when you can go to a customer's house, fix their problems and make them happy again" and today, World Smile Day, is the perfect day for this to happen.
If you need Metro Rod to attend to your property to either discuss any drain problems or to take them away please get in touch.  We work genuinely 24/7 and are available on 0151 909 2807 ANYTIME.  Also, why not check out our Facebook or Twitter pages and see what we're up to?