We are fully committed to servicing all customers in the current circumstances. Our engineers are working hard 24/7 to support all domestic and commercial customers.
What is a Manhole/Inspection Chamber?
We've all seen them, walked over them and most probably ignored them, but what exactly is a manhole? Essentially, a manhole is a covered opening which allows access to the drainage system for the purposes of inspection, cleaning, unblocking or repair. Engineers are able to lift the lids on a manhole to get a better idea of what is happening below and in the instance of a blockage or other issue, work can be carried out using the manhole as an access point.
Below the lid and frame lies a chamber which holds the waste water – this can be foul water or rain water if it is a combined line, and pipes are connected to carry the waste away in designated directions. Laterals, or parts of the drainage system that need joining to the main drainage line, run into the chamber and join the main line for the waste to be carried away.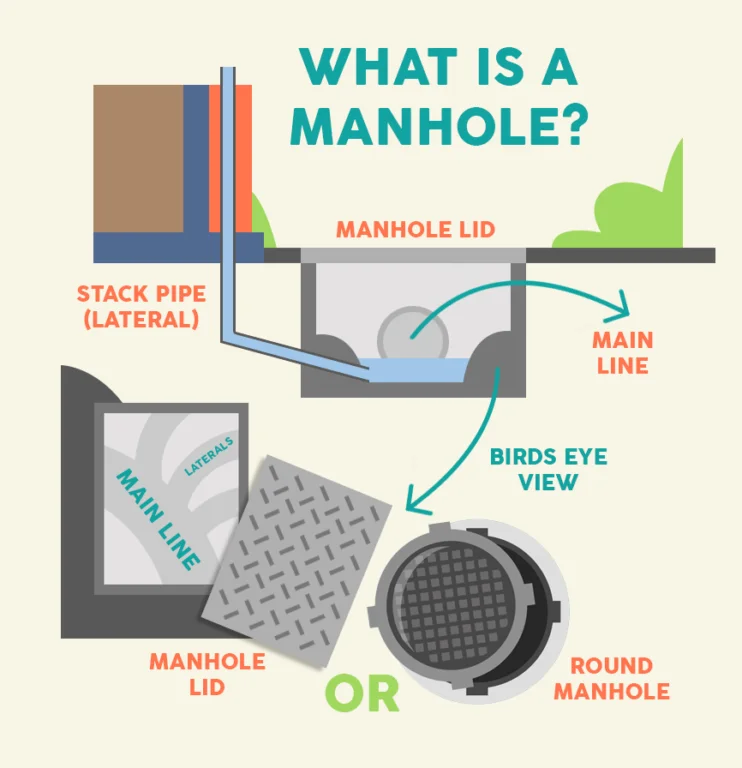 What is the purpose of a manhole?
There are usually manholes located at several intervals down the drainage system to allow for maximum access. If one area is clear yet another is blocked, the manhole closest to the issue can be lifted and inspected, and any necessary work such as high pressure water jetting can be carried out to clear the problem.
If the water is flowing in along the pipe and then stops or backs up, the location of the problem can be confirmed by lifting the manholes and monitoring the water levels. If the levels are high, it suggested there is a problem nearby which requires attention.
---
Key terms
Lid & Frame >> A covering used to secure the hole above a chamber. These are secured down as not to cause safety issues to the public but can be accessed for inspection purposes.
Chamber >> A concrete cavity located below the lid and frame to allow for waste water to pass through.
Lateral >> A lateral drain is the term used to describe part of your drainage which sits outside your property boundary and joins into the
main water company drain.
Benching >> A 'carved out' channel in a manhole that allows for the waste to travel in a designated direction.