We are fully committed to servicing all customers in the current circumstances. Our engineers are working hard 24/7 to support all domestic and commercial customers.
Emergency? 24/7 helpline
0800 66 88 00

UK WIDE SUPPORT - 24/7/365

A NATIONALLY-SUPPORTED, LOCAL APPROACH

ALWAYS ONE OF THE FASTEST TO REACH YOU

#1 FOR PROFESSIONALISM AND TECHNICAL ABILITY

APPROACHABLE AND FRIENDLY PROFESSIONALS

A TEAM YOU CAN TRUST
We are all aware of it, it's everywhere you look.  The concern for the environment is a growing one and with the knowledge that this isn't an easy fix and a 0% emissions aim to reach by 2050 looming in the background, changes are being made far and wide to conserve our waters, wildlife and climate as much as physically possible.   We should expect to see many new laws coming in over the next few years but lets start with the one currently in our back gardens. Septic tanks!
A septic tank is essentially an underground chamber generally found in the grounds of domestic properties.  It's purpose is to collect the sewage coming from the household.  Acting as a kind of treatment process  It holds the sewage allowing for Anaerobic digestion to take place, this decomposes the solids and allows the water to flow out.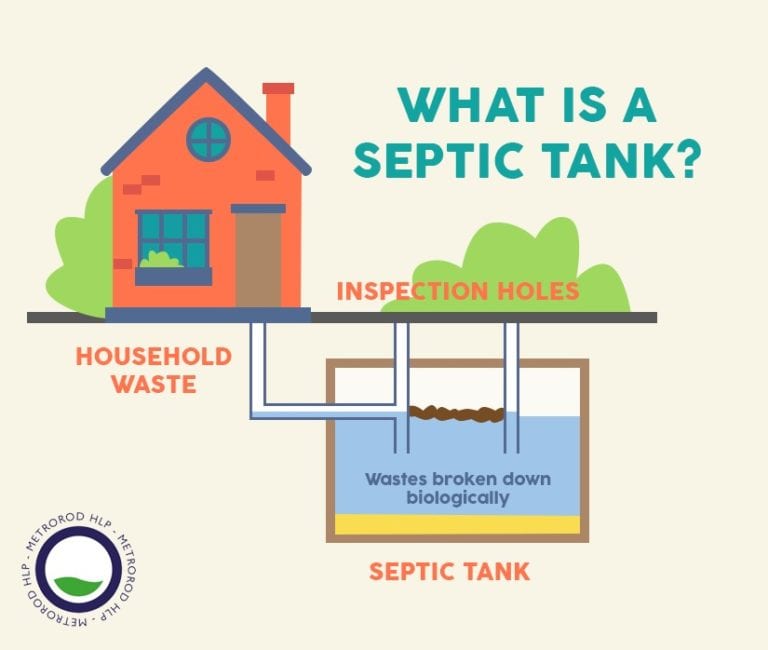 The New regulations
Basic overview:
Rules came into force on the 1st of January 2015 making any septic tank that was installed and operational before 31st December 2014  classed as and existing discharge and anything after a new discharge.  The new regulations coming into force at the beginning of next year effect both existing and new discharges.   Firstly all effluent liquid must go to ground using a correctly designed and constructed drainage field or mini treatment plant. any and all discharges that do not go to one of these systems will need to be  updated as per the new regulations. These include:
Soak-aways used for rainwater
Soak-away pit
Soak-away crate system
soakaway tunnel system
Ezy Drain
Ditches
Dykes
Streams, canals, rivers ect
Surface water drains
If your septic tank discharges into any of these you will need to replace/update your existing treatment system to one that adheres to the new regulations  by the 1st of January 2020 or if you are selling your property by the time your property sells, whichever comes first.
All septic tanks and drainage fields should adhere to the British Standard that was in force at the time of installation New British standards have been released:
Septic tanks :  BS EN 12566-1
Drainage field: BS 6297:2007
This means that a septic tank cannot be installed if the tank and drainage  field do not hold this certification.
Your septic tank must be regularly maintained  and emptied of sludge before it gets to maximum capacity,  generally this is once a year however may differ depending on the size of the tank this may be more frequent.  It also needs to be fully functional and without fault, such as cracked pipe work, blockages and smells.  These kind of issues will become evident and need to be resolved so as to stop pollution.   we would advise septic tank maintenance to ensure problems.
What does this mean for me?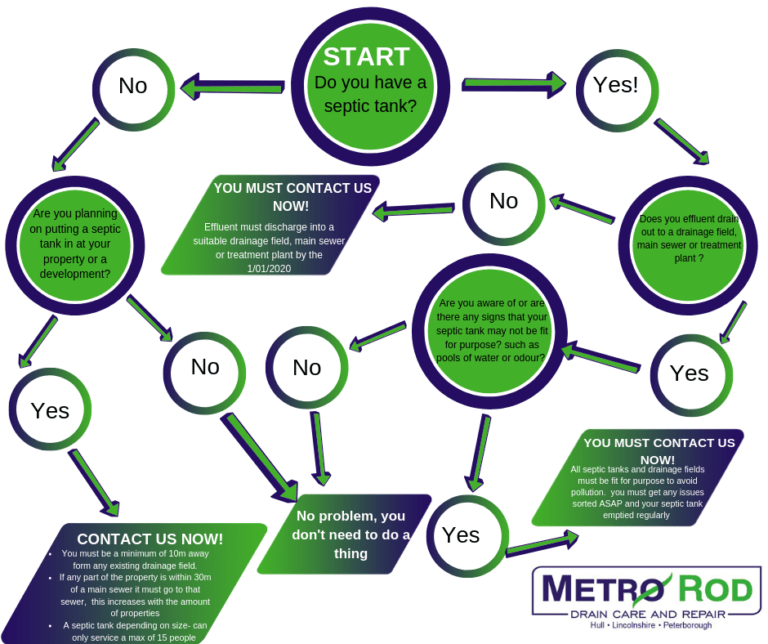 Developers need to know- New discharges!
From the 1st of January 202o it will be harder to install new drainage fields. If any part of the property that the septic serves is within 30m of a main sewer it must be connected to the main sewer system rather than a drainage field.  This applies for larger developments too in that the more houses on the development the larger radius e.g. 5 houses 5×30=150m so if any part of the 5 houses are within 150m of a main line the septic tank must be applied to the local water authority to be connected to it.
If for whatever reason you are unable to connect to the main line,  a permit, from the environment agency, must be applied for to install a drainage field.
So your house is on the market, you have a septic tank.  What does that mean for you?
Well you need to ask yourself a few questions and look into the details you have regarding your septic tank which should have been given to you when you purchased.  If you installed the septic tank then you should have these details;  they need to be kept after installation for 7 years minimum.  When selling your property your septic tank must be up to standard and all documentation (if you are in possession) must go with it along with any documentation or details of changes any changes made to the septic tank or drainage field. You must pass on instructions on how to maintain/use the septic tank and drainage field and make the buyer aware of any changes made to either.   The location of the septic tank and drainage field must be disclosed and a full description with it.
Capacity
You're septic tank must have enough capacity to deal with the amount of effluent passing through it.   If you are installing a new septic tank, treatment plant or drainage field you must check with the installer that it meets with the sizing requirements set out in British water flows and loads 4 guidance.
If the amount of sewage your system is required to treat increase for whatever reason e.g. extension, further people moving in.  it is your responsibility to ensure that your system is still large enough to accommodate.  you can calculate your daily volume or discharge  use here:  if this works out to be more than 2,000 Litres per day then a permit must be applied for.
If you are confused, concerned or needing our assistance with regards to the new law please get in contact so we can get you up and running.  This year is gong so fast don't be caught out!
READ WHAT OUR CUSTOMERS THINK ABOUT US
Google My Business Rating
Polite and thorough approach to drainage
Polite, hard working, very thorough.  Explained all work completed.
Hassle Free Service
Always hassle free and a pleasure dealing with this company.
Polite approach to drainage
Polite and friendly. Worked quickly and efficiently
Super Fast drainange solutions
Super fast response! They quickly found and cleared the blockage.