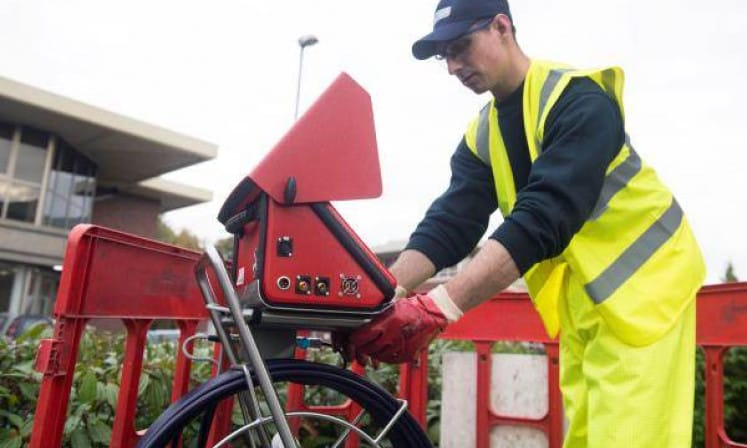 Metro Rod, along with our brand Metro Cam, would like to introduce new, industry-leading, industry-changing, super-fast CCTV drainage surveys using innovative, state of the art iTouch technology.
We understand how vital the decision-making process is within the construction industry, and how time, planning and execution can have drastic effects on your contracts. Why wait 15 days for a CCTV survey and report to arrive in the post, when you can live-stream it from site? Our fast, clear, and concise surveys are instantly available and easily shareable between different parties of your organisation, without the hassle of waiting for it to arrive.
Using cloud technology you are now able to stream your CCTV survey in real-time allowing you to highlight the most complex problems and their solutions whilst our engineer is on site! This massively increases the efficiency of the whole operation. Every customer is provided with unique, secure login details to the web portal which allows this to happen and whether you're 10 metres away, or 200 miles away, the ability to livestream the survey via our web portal is not affected.
With Metro Cam's superfast CCTV surveys, the engineer can complete the full survey on site, meaning minimum involvement from the local office, which improves the quality of the surveys sent to you.
iTouch technology allows us to recognise and accurately code structural conditions, service conditions, construction features; together with other miscellaneous details to the highest standard, and produce reports in a format acceptable to all involved.
We are excited to be able to offer this marketing-leading CCTV service to the construction industry, which will save time and provide our customers with the clear and concise CCTV surveys that they require.
To book in your super-fast CCTV survey, call Metro Rod today on 0800 66 88 00, or for any enquiries, please visit our website at www.metrorod.co.uk, or alternatively, email us at [email protected].
Check out our FREE DEMO account to see how the system work;
www.itouch-live.co.uk
Username: metrodemo
Password: metrodemo