Business Development Manager , Naomi Sherwood from Metro Rod Cambridge, local Drain Care and Repair company was invited as a special guest of Enterprise East Cambridge  on Friday 28th September to the glitzy annual Business Awards Ceremony held in Ely! The East Cambridgeshire Business Awards highlight the success of local firms and their significant contribution to the District's rapidly developing economy.
An arrival a sparkling drinks reception began the proceeding with singing from  The Kings Barbers, King's Ely who have just won the National Youth Cacapella Competition!
The opening welcome was given by Mr John Elworthy from The Ely Standard Newspaper part of the Archant group of Newspapers who sponsor the event. John is incredibly passionate about Ely and its local economy, supporting and cheering on with his ear to the ground, focusing on local business success and local human interest stories. They are of course fabulous media partner to Ely Hero Awards which Metro Rod Cambridge organise.
A wonderful 3 course dinner was presented to each table which the guests enjoyed, this was followed by after dinner coffee.
Sue Dougan from BBC Radio Cambridgeshire was the bright and bubbly host for the evening. Sue welcomed all of the evenings finalists and introduced each  Business Sponsor to announce the Winner of each category.
The evening was very exciting for all of the finalists, their friends and family. Naomi was thrilled to have been invited, along with Luke Smith of Infiniti Graphics, she says "it was a real honour to be invited to the event, thank you to Enterprise East Cambridge! It was wonderful to see the diverse range of businesses in our community, working so hard to support the economy. It is important to see hard work rewarded so congratulations to all of the worthy winners!"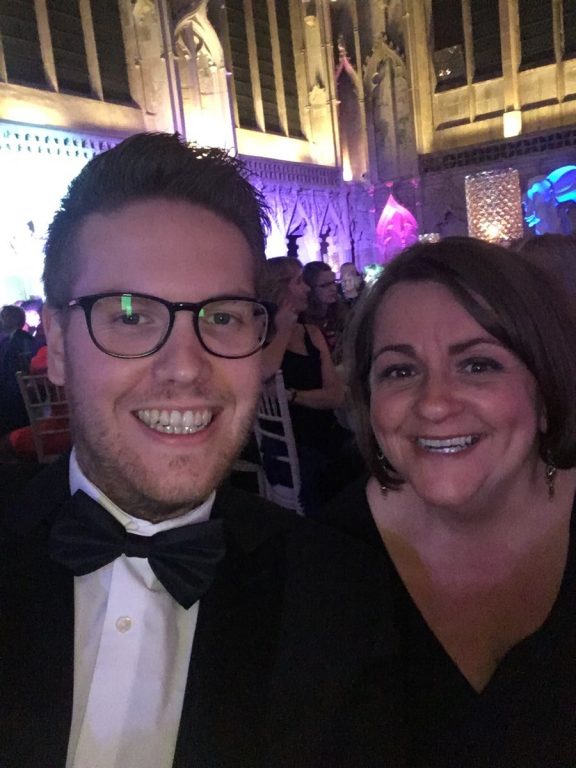 Metro Rod Cambridge would like to send huge congratulations to all of the businesses involved:
Business Person of the Year
WINNER: Andrew Samalionis, Gourmet Brownie Limited
Faye Holland, Cofinitive Ltd
Kayleigh Beeton, Busy Bee Recruitment Ltd
Customer Service Award
WINNER: Atrium Fitness
Lemon Tree Deli Café
OOSTOR.com
Blue Donkey Ltd
Employer of the Year
WINNER: Life Fitness UK
The Moore Hair Company
PlanSurv Limited
Medium Business of the Year
WINNER: ST1 Group Ltd
Deanta UK Ltd
The Highfield Event Group Ltd
Blue Donkey Ltd
New Business of the Year
WINNER: Busy Bee Recruitment ltd
AboutMyAreaEly
Little Roos
OOSTOR.com
Retailer of the Year
WINNER: OOSTOR.com
Spectacular Opticians EA Ltd
Lemon Tree Deli Café
Almost Angels Tattoo Family (Almost Angels Ltd)
Premier Travel Ely
Small Business of the Year
WINNER: Gourmet Brownie Limited
Cofinitive Ltd
PlanSurv Limited
Almost Angels Tattoo Family (Almost Angels Ltd)
Lemon Tree Deli Café
The Innovation Award
WINNER: Blue Donkey Ltd
Little Betties
The Judges' Award
WINNER: Almost Angels Tattoo Family (Almost Angels Ltd)
Business of the Year
WINNER: ST1 Group Ltd
If you would like any further information about how Metro Rod Cambridge can assist you with any Drain Care Services, including blocked drains in Ely, Cambridge, Kings Lynn, Bury St Edmunds or beyond please do get in touch
Telephone 24/7/365: 01353 659047 
Email: kevin. [email protected]
Visit our Websites Kings Lynn Cambridge Bury St Edmunds