"Very Pleased"
24th July 2019 - in Macclesfield, Manchester
"Very pleased with Metro Rod. Quick, efficient service."
Mrs McAndrew

Bang on!
23rd July 2019 - in Bury st Edmonds, Cambridge, Kings Lynn
Perfect – bang on!
A residential client can't praise us enough this week. Having previously called out another drainage company who claimed to have cleared a blocked drain, our client faced another issue only days later…… The problem resurfaced when he came home to a garden full of sewage! He quickly decided to call out Metro Rod Cambridge to resolve the problem.
On attendance at the property, our engineer discovered the cause of the blockage to be 2 gardens up -not in the owners garden! The end of the drainage line was at the neighbouring property, not his own, so after checking this, the engineer could clear the run completely restoring flow right along the 3 properties.
The client says "your service was perfect, bang on! I'm only sorry that its cost me a lot extra to put a simple job right, I should have called you out 1st!"
"Great Job Done!"
23rd July 2019 - in Macclesfield, Manchester
"Just had a great job done by Phil Walsh, took his time to ensure a thorough job. Highly recommend."
Mr Thompson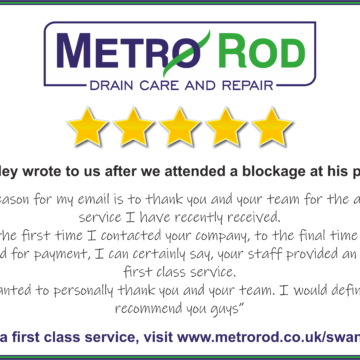 "EXCELLENT FIRST CLASS SERVICE" FROM METRO ROD SWANSEA
23rd July 2019 - in Carmarthen, Neath, Pembroke, Swansea
I hope you don't mind me emailing you direct. I was provided your email address by Lewis Turner our Marketing Manager who I believe you know.
The reason for my email is to thank you and your team for the amazing service I have recently received whilst using your company.
Last week, I had a problem with a severely blocked toilet and try as I might, I could not get it to unblock using normal methods.
Whilst trying to find someone that could help, I remembered Lewis had previously mentioned your company.
From the first time I contacted your company, to the final time I was contacted for payment. I can certainly say, your staff provided an excellent first class service.  They were polite, courteous and could not be more happy to help and resolve any issue I may have had.  When trying to find time for an engineer to come to the house, I was not available due to having meetings all day and my wife was unavailable due to taking the children to school sports day. As you can imagine, that was not the best day for our toilet to be blocked. However, every problem that I mentioned, your staff said it was not an issue and they always found a work around for everything. I can certainly say I have very rarely experienced a service of this level.
I wanted to personally thank you and your team for such an amazing service and I would definitely recommend you guys. I can fully understand why your company is winning so many awards.  Please pass on my thanks to your amazing team.
Thanks,
Lee Bradley (BSc Hons, ATT, CTA)
HUGE THANK YOU…
22nd July 2019 - in Southampton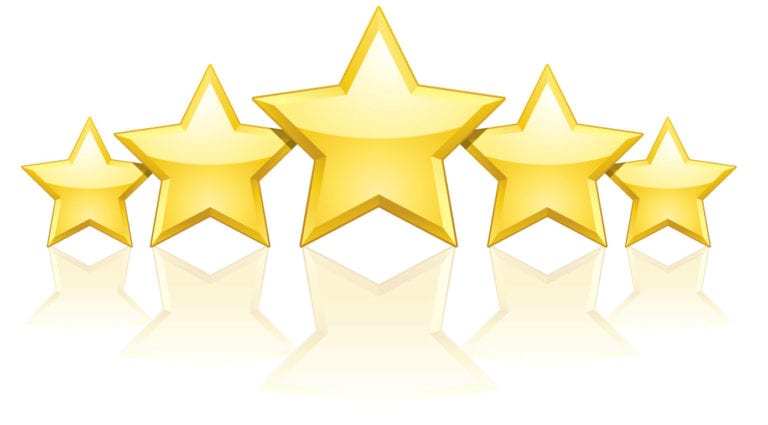 Would just like to say a huge thank you for getting to us so quickly, please give the guy you sent a big thank you too.
Sue Bunce, Facilities Administrator, Coopervision Delta Park.
Metro Rod Mid Wales & Shropshire get great all round Root review.
19th July 2019 - in Mid-Wales, Shrewsbury, Shropshire, Telford
We have received another brilliant review from a customer in Caersws, Powys. This customer had contacted us regarding ongoing issues she had been having over the past 10 years with her Drainage. She explained what has been going on and it was obvious a Drain cleanse and CCTV survey was required. Our engineer Tom attended and he began Jetting to try and clear a path but was met with what he explained felt like heavy Roots as the jetter was going no where fast. He proceeded to CCTV the Drains and found a mass of Roots had completely overwhelmed the drain. Moving down stream to the next manhole he found Roots and jetting further down he hit more Roots. We further recommended an exploratory root cut was required with CCTV to follow. The customer left us this brilliant review.
We pride ourselves in providing our customers with the best service possible. its great to see the customers can see it too.
"Very Good Quality"
18th July 2019 - in Macclesfield, Manchester
"I was very happy with Metro Rod's services. They did a homebuyers drainage survey for me. They were very fast and very professional. I got the survey back very quickly and the report was very detailed, informing me about all the detected defects at the property. I recommend to use them. Fast services at a very good quality."
Mr Nicolae
Nice & Polite couldn't ask for anything more
18th July 2019 - in Northamptonshire
We called Metro Rod Northampton out to attend a blocked drain.  They came out very quickly and soon cleared the blockage and restored the flow.
Thank you to Kevin Ryan who was very nice and polite, we couldn't have asked for anything more.

One Stop Store Northampton