"Nice Blokes, Top Job!"
21st February 2019 - in Macclesfield, Manchester
"Fantastic service, nice blokes, top job. Thank you!"
Ms Parrott-Cross
A huge thank you!
19th February 2019 - in Bury st Edmonds, Cambridge, Kings Lynn
Very impressed with your service
A residential Customer in Cambridge just called in the office to say a huge thank you to our Engineer, Neil for quickly and efficiently solving the problem with their blocked toilet. The customer had a blocked toilet right over the weekend and hadn't realised we offer a 24/7/365 emergency unblocking service so they battled on until they called us out on Monday to rectify the problem!
Our Engineer unblocked the customers toilet in no time at all to restore flow. Mrs R says "we were very impressed with his skills and will definitely use you for any further issues, its reassuring to know you operate over the weekends. A huge thank you to your engineer"
Huge thanks …..
19th February 2019 - in Southampton
Huge thanks and compliments to Nathan who attended today to unblock the toilet, he did a brilliant job, very professional, very pleased all now up and running.
Jamie & Liam | Metro Rod Liverpool | Yet Another Great Job
15th February 2019 - in Liverpool, Runcorn, Warrington, Widnes
When we received the following feedback from a new client of ours we were thrilled!  We had installed some new pipework for the client and she told us that;
"Liam and Jamie had done a great job"
Thanks Lesley, we have passed your kind works and thanks onto them!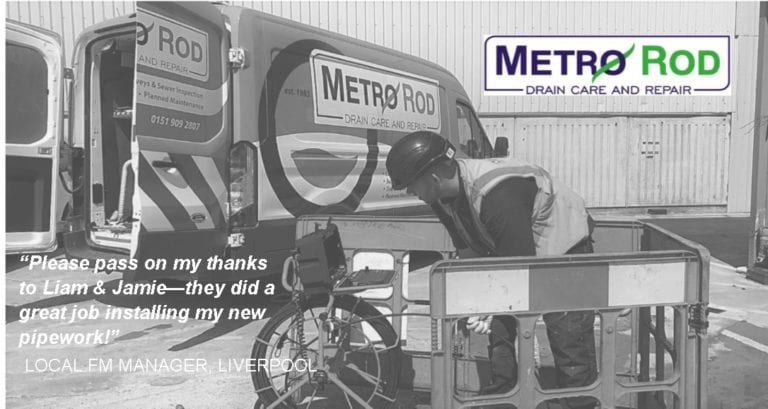 Barry, Mike, Shea & Steve, a credit to Metro Rod!
15th February 2019 - in Liverpool, Runcorn, Warrington, Widnes
After carrying out works on a large site recently in Liverpool the Site Manager got in touch to briefly tell us;
"Your lads were brilliant – they never took their feet off the gas!  They are a credit to the company!"
Thanks Paul, we have to agree!
Paul, local site manager
"With us Within the Hour"
15th February 2019 - in Macclesfield, Manchester
"I just wanted to give some feedback on the excellent response I had to an emergency plumbing callout yesterday.
A connection to the cistern on the downstairs loo developed a dramatic leak. I had to isolate the mains and called my insurance service. Metro Rod contacted me within 10 minutes and an engineer was dispatched. I was warned that it could take up to 4 hours, but Josh was with us within the hour.
He was professional and polite, very careful not to damage or mark anything and had the job sorted quickly, leaving everything neat and tidy. What could have been a real crisis and major inconvenience was dealt with well and without a fuss. Thank you."
Mr Garnett
"Would Certainly Recommend"
14th February 2019 - in Macclesfield, Manchester
"Great service, quick and efficient. Would certainly recommend."
Mr Barker
"Second to None!"
13th February 2019 - in Macclesfield, Manchester
"The service was second to none. I have had 4 engineers to come to this job before and Phil has solved the problem. He was clean and tidy and he was a joy to be around."
Ms Brown