Excellence and knowledge in the drainage industry
20th March 2019
Engineer was excellent and very knowledgeable.
Hassle Free Service
20th March 2019 - in Hull, Lincoln, Peterborough
Always hassle free and a pleasure dealing with this company.
Tina Welch, Spalding
Wicked Wipes Block Manhole in Shrewsbury.
20th March 2019 - in Mid-Wales, Shrewsbury, Shropshire, Telford
We have received another review from a happy customer who had called in with a Blocked Manhole, Our Engineer attended the property where he found a Blocked Manhole, on lifting the lid it was evident there was a large presence of wipes which led to the drain being Blocked and the Lines to the property were backing up with Sewerage. The Manhole was High water pressure jetted and cleared of all nasties. The customer was kind enough to leave this review.:-
"I would like to say a big thank you for coming out on the emergency service so quickly. Tom Emberton had a pleasant professional manner and he sorted out our problem. I would highly recommend and would definitely use them again, An excellent service from start to finish."
Well done Tom!! Great Work
"On the Ball"
19th March 2019 - in Macclesfield, Manchester
"Really helpful team and staff. Came to us here at Stella Motors, Dove Holes, the engineer called us before to confirm arrival. Very speedy in regards to work, help, emails etc. Very on the ball. Thank you to Alex in the office and David the engineer for your help and support."
Ms Stafford
A brilliant review left for our Septic Tank Engineer!
18th March 2019 - in Mid-Wales, Shrewsbury, Shropshire, Telford
Our Ever busy Septic Tank service has been flying recently and this review left by the customer really show how well our Engineer Gary is doing on this occasions Gary had attended and blocked drain in Machynlleth and he noticed that the Septic Tank was full so he returned to empty it!
"I recently contacted you as our Drains were blocked and Gary turned up just a few hours later. After an hours drive from Welshpool. He Cleared the blockage by high water pressure jetting, Then he turned up the next morning to empty the Septic Tank. Very Pleased with the excellent service and would certainly recommend you. Thank You Gary!"
Safe to say this put a nice smile on Gary's face!!
"Really Helpful Team"
18th March 2019 - in Macclesfield, Manchester
"Really helpful team of staff. The engineer also called me from the site to explain the full procedure. The report, recommendations and quote for suggested work were sent by email very speedily and was very detailed."
Ms Buzink
Another Blocked Drain Unblocked Swiftly
15th March 2019 - in North East
Just a quick note for another job well done it's a pleasure working with your company so can you please pass on our thanks
Newcastle Commercial Customers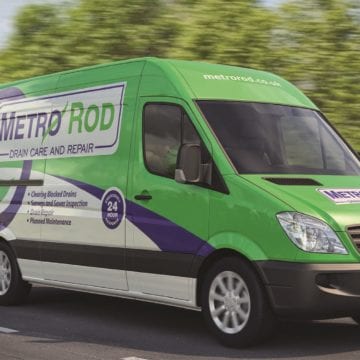 Excellent Service From Start To Finish
15th March 2019 - in Norwich
Excellent service from start to finish.
Nothing was to much trouble, we were kept well informed from when we called with an issue until the engineer arrived. We even got a follow up call to make sure all went well at the end of the job
The Engineer was professional and courteous and sorted out our issue without fuss when he arrived.
First class service….well done Metro Rod Norwich! ??
Mr Blackett - Tasburgh