Save Water, Save Money, Save Our Planet
You have probably seen across all Social Media Platforms that it's National Recycle Week. Metro Rod South Yorkshire and all the other franchises across the country are committed to making a difference by actively reducing, re-using and recycling. There are many ways to recycle everyday things such as sorting your household waste into the correct recycle bins or re-using something rather than getting a new one.
National Recycle Week is a week of celebrating recycling and encouraging people to recycle more items around the home and at work. Small changes every day can help towards a bigger, brighter future. And we can all start by making sure we're recycling anything and everything that is recyclable!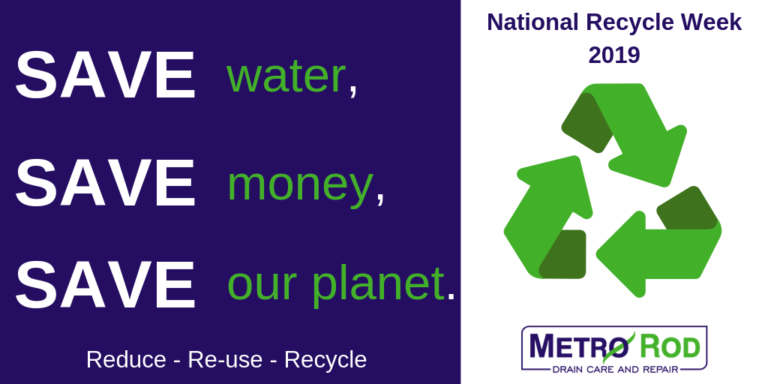 Water recycling is often forgotten about but it very important for the environment and helps us save money! Water recycling is very important to our plants, wildlife and fish and could save us money! By using less water, you'll reduce the amount of money spent each year on purifying it. If less water is needed to be purified, this will save energy and also preserve the planet so it's a win-win for everyone!
We have put together a few tips to help you save water at home.
Washing the Pots
When washing your pots, use a washing up bowl rather than leaving the tap running could save litres and litres of water over the year. Also, any left-over water in the washing bowl could be used to water the plants around the house and in the garden.
Washing the Car
If you use a bucket of water rather than using a hosepipe when cleaning the car, you could save a large amount of water. When you're cleaning the car, you'll tend to leave the hosepipe running on the ground until you need it again rather than turning it off which is wasting more than 10 litres per minute!
Washing your Clothes
When you're buying a washing machine, choose a high-efficiency washing machine as these will (on average) use 40% less water than a regular washing machine. Also, when you're washing your clothes, only wash them when you have a full load of washing instead of doing frequent small loads of washing.
Cleaning your Garden
Sweep your garden/drive rather than using a hose pipe or pressure washer. If you use a hosepipe/pressure washer to clean down your garden/drive, you're using approximately 10 litres of water per minute and you're more than likely going to wash all the dirt and debris down the gully which could cause a blocked drain! Instead, use a sweeping brush and sweep the mess to one side and pop it in the bin to avoid a blocked drain.
Having a Wash
The most effective water-saving method is to take a shower and try to keep your shower to 5 minutes or less to reduce water waste. Also, never leave the tap running when you're brushing your teeth or washing your hands as a household tap can run at about 2 gallons per minute so imagine how much is wasted per day by leaving the taps running.
Join in with National Recycle Week and make a difference to our planet!
We're always actively looking into ways to reduce waste and recycle wherever possible across Sheffield Doncaster Barnsley and Rotherham to save our planet, and you can also help too! Check out our article about the do's and don't of flushing things down the toilet.
Metro Rod Sheffield Doncaster Barnsley and Rotherham
Visit: https://www.metrorod.co.uk/local/sheffield/
Call us on: 0808 208 2655
Email: [email protected]
Leave Us Some Feedback