How are we helping schools and their drains this Back to School Week?
It's that time of year again folks! Children everywhere across the UK are waking up earlier than they have in six weeks, arguing about which shoe goes on which foot, refusing to eat breakfast and too busy watching morning cartoons to get dressed. All with an annoyed parent trying to get the packed lunch in the lunch box and out the door by 8:30. Yes, it's back to school week!
After six weeks of trying to keep them entertained, parents are breathing a sigh of relief that they can have some peace and quiet for 6 hours a day whilst their angels are sat in their classrooms. Teachers are now in charge, and we thank them for their service over the next year in educating our young people, you are heroes!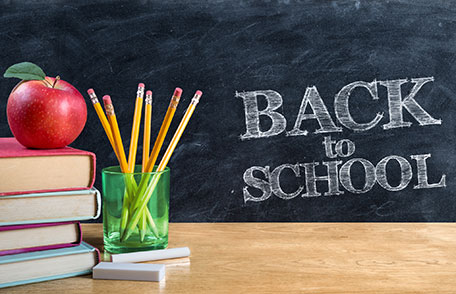 What problems do school drains face?
With 9 million children heading back their schools this week, this is going to put a huge strain on school drainage networks across the UK. This is where we at Metro Rod come in!
With schools not being mass occupied in 6/7 weeks, the drainage systems have had no regular usage. This can sometimes be just as big of a problem as being over used! Especially with the amount of dry weather we've had over the summer. Gullies and drains are going to be dry as a bone. If you woke up in North Wales this morning you'll have been greeted with a bleak outlook today. We see grey skies and plenty of rain here! Not really what everyone wants to see on back to school week!
Now that schools' drainage systems are bone dry, they are probably full of dry silt, leaves etc. When rains come in great quantity this can cause blocked and backed up drainage systems. Now the children are back in school is not an ideal situation to be in.
How big is the problem with school drainage systems?
Let's look at some figures! On average, primary schools across North Wales hold 210 children. If each child visits the toilet twice whilst they are in school (once a break time, once a lunch, minimal) that's 420 flushes of a toilet, 420 times a sink is ran to wash hands. On average a toilet cistern will use up to 7 gallons of water in one flush. That's 2,940 gallons of water from just one small school, just from children flushing toilets, about 13,638 litres! Imagine the chaos if we considered larger colleges and high schools! This just highlights how much pressure schools are in to keep their drains flowing freely.
If there is even a slight blockage somewhere along the line, this could cause major issues. From toilets backing up, to gullies over flowing, to manholes blocking. Blocked drains are a serious health and safety hazard especially where children and schools are concerned. Metro Rod are on hand to help our local schools, colleges and universities in whatever capacity during this back to school period.
The best way for schools to ensure their drainage systems are running at peak capacity is to keep on top of regularly maintaining the drains' cleanliness. We can carry out and programme specialist Pre Planned Maintenance on school drains to help with this (see here for a full breakdown on how we carry these out). We're also on hand in an emergency should schools find themselves in need. We can undertake CCTV Surveys to get to the root of the problem. We can also take on larger scale blockages with our specialist Tanker Services.
We'd like to wish everyone going back to school this week good luck and wish them well in their learning this year. Good luck to all teachers too! Finally, to all the parents out there, put your feet up and have a brew, you've earned it!
If you know a school in need, or if you're in estates/school maintenance in the North Wales/Chester/Wirral areas, contact us using the below to discuss how we can help keep your drainage systems in tip top condition!
Email Us; [email protected]
Call Us On: 01244 288809
Visit Our Website: www.metrorod.co.uk/local/deeside-north-wales