Take the hassle out of clearing your gutters with the help of Metro Vac.
Gutter clearing is an essential part of household maintenance, because blocked gutters can cause big problems. This time of year, with changing weather and falling leaves, it is crucial that you ensure your gutters are clear, but difficult access to gutters have long been a problem.  Never fear – Metro Rod have developed an innovative system called 'Metro vac'.
To read more about the Metro Vac system, Click HERE.
With Autumn fast approaching, now is the time to have your gutters cleared. Metro Rod Bedford use this state of the art equipment to ensure your drains and gutters run freely.
Why bother?? Well… keeping your gutters clean and free from debris i.e. leaves, dirt and rainwater, prevents any blockages arising. If blockages are left uncleared, they can then go on to cause severe damage to your home.  We understand that it's not going to be on anyone's list of favourite jobs, and we know gutter cleaning can be somewhat difficult and even dangerous. This is where our team of experts come into play. Here at Metro Rod Bedford all our engineers have the knowledge and expertise when it comes to cleaning gutters.  We use the innovative Metro Vac system, which uses poles that can reach up to 10 metres high (no need for expensive scaffolding) to ensure an effective and safe gutter clearing service from ground level.
How blocked gutters can cause damage to your home
Water Damage (rainfall) this can eventually seep through your roof, and onto your ceilings.
Wildlife Damage (insects, birds, moss and debris) this can result in vegetation.
Wood Damage (blocked gutters can cause damage to your fascias) this results in severe rotting & deterioration.
Weight Damage (your gutters are not designed to take a lot of weight, debris and water can cause them to bend and break.
Regular gutter cleaning is best being undertaken by a professional at all times, as homeowners do not have the correct equipment nor the skills to undergo the job entailed. At Metro Rod we have inspection cameras to enable us to provide a high quality service, which is both safe and hassle free.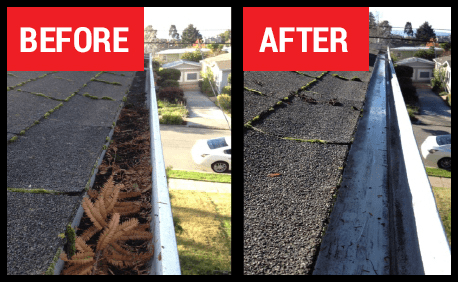 All properties require on-going maintenance when it comes to gutter cleaning, so please contact your local service centre today on 01582 666543 and we will be more than happy to assist you with all your annual maintenance needs. Our engineers are on call 24hrs, 7 days a week, day or night if you do run in to difficulty. If you'd prefer to email us – you can do this by clicking on the link here –  [email protected] 
You can also visit our websites for further information on this and all the other services we offer, including clearing unblocked drains and carrying out complicated underground CCTV surveys:
Metro Rod Bedford and Milton Keynes
You'll see Metro Rod out and about clearing gutters and unblocking drains across Bedfordshire, Buckinghamshire and Hertfordshire, in places as far afield as Milton Keynes, Hemel Hempstead, Luton, Dunstable, Leighton Buzzard, Watford, Stevenage, St Albans and the surrounding villages… coming to your rescue night and day.
And if you find yourself needing an emergency plumber or drainage engineer,  you can call our emergency helpline on 0800 668800 any time night or day.